If you are new to credit and have no credit to your name or are a beginner with limited credit, you will want to apply for a starter credit card. These types of cards are geared toward young adults who are just starting to build credit.

Beginners have many cards to choose from. It is important to compare what each of these cards has to offer so that you can make an educated decision when you decide which one is worth getting.
Discover it Credit Card – Earn Cash Back on Purchases
One of the best cards for young adults is Discover it. It is tailored toward young adults just starting to build up their finances and offers an initial zero percent APR for purchases for the first six months. The APR for balance transfers for that time is 10.99%. After the six months, you can expect a regular APR ranging from 13.99% to 22.99%. There is no annual fee tied to the card and you have the opportunity to get a dollar-for-dollar match on all the cash back you have earned by year's end. You can also get 5% cash back on a variety of rotating categories each quarter, such as on restaurants, transportation and when you purchase online.
Capital One Secured MasterCard – Build Credit Fast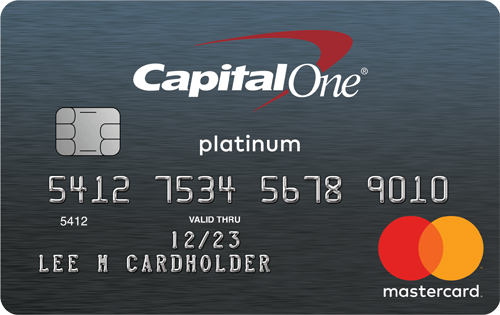 The Capital One Secured MasterCard is excellent for those just starting to build credit. Because it is secured, it requires a security deposit of $49, $99 or $200, giving you an initial credit limit of $200. All of your usages are reported to the three major credit bureaus, which helps to build your credit history and reputation. After you have made the first five months of payments on a timely basis, you can increase your credit line. There is a regular APR of 24.99% on this credit card but no annual fee.
Capital One QuicksilverOne Card – Maximize Rewards
Beginners with limited credit should consider the Capital One QuicksilverOne Cash Rewards card. Although it has an annual fee of $39 and a regular APR of 24.99%, it is worth it due to the rewards you can earn. Get 1.5% of unlimited cash back on all purchases and receive 50% back on your statement if you pay for a Spotify Premium subscription up until April 2018. You can increase your credit line after you make responsible, timely payments over the first five months. There is also full fraud protection if your card is ever stolen or lost.
Chase Freedom Card – Up to 5% Cash Back
The Chase Freedom Card is a popular credit card choice for young people just beginning to build their credit. It allows you to earn an amazing 5% cash back on all purchases of up to $1,500 in various bonus categories each quarter, plus an additional 1% cash back on all your other purchases. Additionally, earn a bonus of $150 after spending $500 worth of purchases within the first three months after opening your account. For the initial 15 months, there is a 0% APR on both purchases and balance transfers, which makes this card really attractive for new users.
Citi Secured MasterCard – No Annual Fee
The City Secured MasterCard carries no annual fee and has a regular APR of 23.49%. It allows you to slowly but surely build your credit through a security deposit to establish your credit line, which starts at a minimum of $200. You can receive reminders for any time payments are due, which can help to build your creditworthiness as well. The card is geared toward those with no credit. These are some of the best options for a starter credit card. It's important to do your homework and learn about the features of a few cards before you apply so that you can be sure you are getting the best card for you.
Other Types of Cards 
Credit cards come in two varieties, secured and unsecured. Many consumers start their credit history off with a secured credit card. This type of card is a safe investment for the issuing company because the card is backed by a cash deposit. The cash deposit is usually equal to or greater than the limit of the card. Purchases made with the secured credit card are not deducted from the cash deposit. They are added to the account balance. Purchases add up and accrue interest over time. Should the cardholder close the account, the cash deposit is refunded so long as the account balance is zero. Unsecured credit cards are not backed by a cash deposit. Instead, the credit card limit is set based upon a consumers credit history and income level.
Does The Card Have A Fixed Or Variable Annual Percentage Rate? 
Fixed-rate cards have a consistent rate that was agreed upon at the start of the contract. Variable rate cards are usually tied to the prime-lending index. This means the APR of the card could change depending on rates set by The Federal Reserve.
What Is An EMV Chip, How Does It Affect Fraud Liability And Do You Need One? 
An EMV Chip is a microchip embedded within the credit card. This chip generates a unique code with every use of the card. Additionally, it protects stolen card data from being used on counterfeit credit cards. The EMV Chip won't prevent all fraud. The chip does not have a role in online transactions, and therefore cannot protect a card from being input online fraudulently. As of 2015, banks that do not issue credit cards with EMV chips have become liable for credit card fraud in many situations. This change also shifted liability to merchants not using chip-reading devices for in-person transactions. In examining facts about starter credit cards, you should look for the presence of an EMV chip.
What Types Of Fees Are Typical Of Credit Cards? 
Many credit cards have an annual fee. This is a fee paid to the credit card company just for having a card with them. Another common one is the late payment fee. This fee is typically applied when the minimum payment is not made to the company by the due date. Don't be afraid to ask a company to waive an annual fee. While it's less likely, companies will sometimes also waive late fees once the account is up to date.
How Is The Card Interest Calculated? 
Interest on a card is calculated using the annual percentage rate of the card and the average daily balance. This means that the interest accrued on a card can change daily throughout a month. At the end of the month, the total of the interest accrued daily is what is tacked onto the account balance.
Do I Need To Carry A Balance On The Card To Build Credit? 
This is a common misconception about building credit. You do not need to carry a balance in order to build good credit. Simply using the card and paying it off at the end of each billing cycle is enough to build your credit. In many situations paying off a card's balance, each month builds a credit score more efficiently than carrying an unpaid balance. The above information is not only helpful when comparing starter credit cards, but when examining any type of card.
What Should I Watch Out For When Using These Cards? 
Responsible credit card holders should examine their statements from the company closely each month, even if the card hasn't been used. A user might develop a history of responsible card usage and become eligible for a card limit increase. Some creditors charge a limit increase fee. Prior to accepting a limit increase, be sure to ask if there is an associated fee. Perhaps your card has an annual fee that was waived the first year. Don't assume that the fee will be waived again at the start of the second year. If you're assuming you don't have an account balance because you haven't used the card recently, you could end up with a delinquent bill and adversely affect your credit score.
Ensure Each Transaction Listed On Your Statement Was Made By You 
This one is fairly self-explanatory. If your credit card statement doesn't seem correct to you, then go line by line through the purchases. Making this a habit could help you quickly identify credit card fraud and recoup money from any purchases you didn't make. Should you be traveling, make sure to check your card statement even more frequently than you might normally.
Watch Your Credit Score 
Getting a starter credit card was probably all about building a strong credit history and raising your credit score. Make sure that's what your card is doing. Consumers should be checking their credit score 3 times a year. If your credit score has inexplicably gone down, you will want to examine why. Is there a credit card payment you forgot about? Was there fraud on your card that went unrecognized? Don't stop without getting to the bottom of it.
Time To Decide
Obtaining your first credit card can be a huge step towards financial independence for a young person. It can also be a step towards credit catastrophe. Armed with the information above, you should now be able to choose your first credit card with confidence. Not only that, but you won't be afraid to ask the company to waive some fees either.