Whether you are applying for a credit card for the first time or are considering opening another credit card account, it is important to shop around because not all credit cards are the same. When choosing a credit card, you should consider what you will be using the card to buy and how you will pay off what you owe each month.
With over ten types of credit cards on the market today, unsecured and secured credit cards are the most popular options that credit users apply for to pay for goods and services. To help you determine which type of card is the best fit for your budget and lifestyle, review the brief descriptions below to learn about the differences between unsecured and secured credit cards.
Side By Side Comparison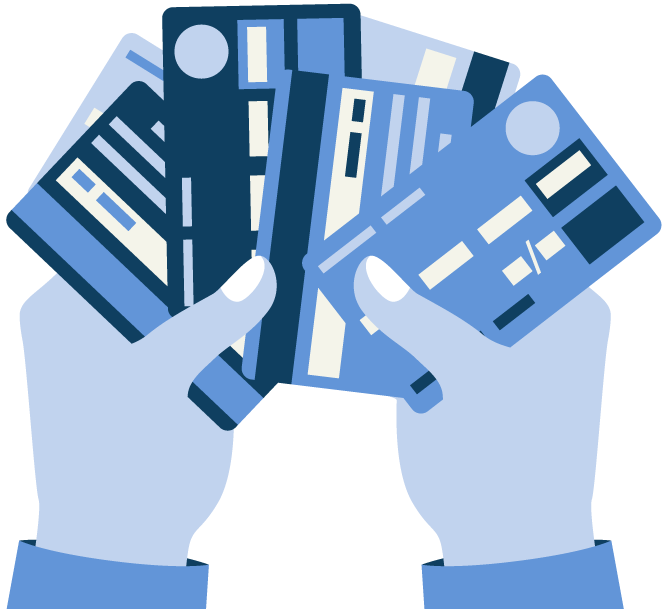 A general comparison of unsecured and secured credit cards shows that both types of cards work the same way once a secured credit card holder makes the required deposit. Secured and unsecured card issuers send out a monthly statement outlining your purchases, interest rates on balances, and the date payment is due. Cardholders are required to make payment on or before the due date for their credit scores and credit limits to remain in good standing. Grace periods are granted to help card users avoid late fees and interest charges. As long as you make your payments on time, credit limit increases are available, and the three major credit bureaus receive a good report.
Secured Credit Cards
The secured credit card is gaining more popularity among people with no credit or low credit scores. With proper use, these cards help credit users build or repair their credit histories. Secured credit card lenders require applicants to put up collateral in the form of a refundable security deposit in order to qualify for one of their cards. The amount of the deposit is usually equal to the amount of credit that you want to use.
How The Deposit Works for Secured Cards
For example, if you want a credit limit of $1,000, you must deposit that exact amount in your credit card account. However, this deposit will not be used to pay off monthly balances. The card issuer will only use the deposit to cover the balance if the cardholder continuously defaults on payment. Most secured card issuers allow card users to increase their credit limits provided they add money to their initial deposits. A cardholder who has displayed a positive payment history may be able to earn credit line increases and qualify for an unsecured card. A secured credit card is a no-hassle option. If you pay your balance before or on the due date, your credit score will improve. If you cannot pay your balance off over the allotted time period, the money is already in the account to cover any purchases made.
What You Should Know About the Credit Card You Choose
Comparing credit card offers can be mind-numbing and time-consuming. If you have already spent a considerable amount of your free time researching credit card offers and have yet to select a card lender, narrow your choices in half by deciding between a secured and unsecured credit card. Remember that, the primary difference between the two is that a secured card requires a deposit and no minimum credit score while approval for an unsecured card is based on your credit score and annual income. Once you have selected the type of card, you should create a comparison chart of lenders according to the following criteria: 
Minimum repayment amount
Annual fee and Annual Percentage Rate (APR)
Late fees and other penalty charges outlined in the credit agreement
Card benefits to include cash back incentives and purchase rewards points
How often the card issuer reports to national credit bureaus
Card cancellation alternatives
Line-of-credit increase terms
Debt collection methods
List of secured credit cards  
Discover it
Capital One
Green dot Primor
Citi
First Progress Platinum Prestige MasterCard
OpenSky
USSA
SELF Lender
First Premier
First Progress
Before choosing one of the above in the list of secured credit cards, it is important to research about what are the benefits for a secured credit card, to get in-depth knowledge about each, so that you could make an informed decision.
What Are The Benefits For A Secured Credit Card?
Secured credit cards are the best way to ensure you have a credit card without having undergone the horrible inquiry as to why you have bad credit. You put in an initial deposit of a specified amount, which is refundable in case you want to shut down your account. The concept makes it all so easy to achieve, as you are allowed to spend only that which you deposit in your account.
It is a good option for people who are starting out. These include college students, newly divorced people and, recent immigrants. This is because these people do not have tax returns available and this discourages a lot of lenders to give credit to them. Secured credit cards, therefore, offer them a chance to rebuild their credit score. As soon as they make a deposit of a specified amount, they are good to go.
With proper management and making payments on time, you have high chances of increasing your credit score. You can easily contact your lender to make an additional deposit, to improve your loan limit. With this kind of proper management, it is easy to raise your credit score.
Most secured credit cards are widely accepted. They are recognized as a form of exchange even when traveling outside the country. Most traders would feel very much relieved to know that you are in a position to pay for their goods and services. This also makes your visit outside the country more comfortable, as you do not have to deal with cash.
Unsecured Credit Cards
The most common credit card marketed to consumers is an unsecured credit card. To qualify for this type of card, an applicant's financial snapshot must include an above average credit score, illustrate a satisfactory credit history, and meet or exceed the minimum monthly or annual income prerequisites.
How well your financial profile matches up with these minimum qualifications will determine your credit limit. Commonly referred to as standard credit cards by retailers and card issuers, unsecured cards do not require any form of collateral or deposit for approval. However, this does not mean that cardholders who default on payment are off the hook.
Quick Communication
Unsecured credit card lenders often immediately contact cardholders who are late making their minimum payments or who have allowed their late fees and finance charges to balloon out of control. To collect unpaid balances, unsecured credit card lenders often send "gentle reminders" in the form of phone calls, emails, or text messages. After your account is delinquent for 90 days, the card lender may pursue more serious steps, such as taking legal action to collect the balance on your account. Despite their stringent stipulations, unsecured credit cards have great rewards programs in which cardholders can stack up points for large retail purchases, vacation expenses, car rentals, and more.
List of unsecured credit cards 
Milestone MasterCard
Indigo MasterCard
Credit One Bank
First Access Visa
Official Nascar
Total Visa
First premier.
Before settling on anyone in the list of unsecured credit cards above, it is essential to do your due diligence, to be sure of which one suits you best. Ask yourself, what is the benefits of an unsecured credit card?
What Is The Benefit Of An Unsecured Credit Card?
No collateral needed– With secured credit cards, you have to have a property that you can provide as collateral. In this case, you don't have to make a promise to give out your house, car or any other property as collateral.
Availability of bonuses and discounts– With the card, comes the benefit of having cash discounts, travel bonuses and other benefits that you get to enjoy. With time, you get to make little savings on your money.
Transfer of existing balances– With a secured card, you can transfer money from your account to an unsecured account, after hitting particularly given targets. The idea, in the long run, could save you cash regarding interests, fees and other costs which will be specified.
It eases the process of accounting for your money. The yearly fees are subtracted from the beginning credit balance, so as to ease your accounting process.
Flexible terms of payment- The way set to pay back the credit is convenient, in a way not to stress the borrower. You can pay the entire amount all at once, pay in bits and pieces as long as you meet the minimum requirement or you can go over the minimum requirement as long as you do not strain yourself.
The credit limits are high– When in need of a large amount of money to finish up a project or even expand your business, the unsecured credit cards will enable you to continue with your plans. You can access large sums of money, and you will be required to pay interest only on the portions you use.
There is a separation of personal and business credit– Unsecured credit cards prove that it is possible to separate business expenses from personal expenses. This, therefore, makes it easy to establish the creditworthiness of your business, without being affected by your costs.